Acana Yorkshire Pork Dog Food (6 kg)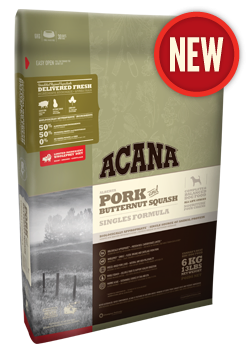 Acana Yorkshire Pork Dog Food (6 kg)
*In Store pick up only*
ACANA Yorkshire Pork is a limited ingredient food featuring 50% pork, a single easily digestible animal protein, making it ideal for diet-sensitive dogs of all breeds and life stages.
Raised on Alberta prairie farms, our fresh Yorkshire Pork arrives in richly nourishing WholePrey™ ratios of meat, liver, kidney and cartilage that mirror the natural diet. Fresh whole butternut squash and pumpkin provide a rich source of soluble fiber to settle sensitive stomachs and support healthy digestion.
Prepared from the best and freshest ingredients in our award-winning NorthStar® kitchens, this Biologically Appropriate™ food is perfect for fussy or diet-sensitive dogs.