Chuckit Ultra ball (small) 2 pack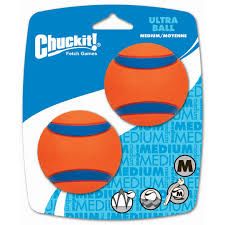 Chuckit Ultra ball (small) 2 pack
The Chuckit Ultra Ball maybe the best dog ball we have ever used. It is extremely durable almost to the point of being indestructible and it is great value for money.
This ball is very light, bouncy and floats, so it's great for water loving dogs too. A small air hole enables the ball to be chewed without causing damage to the ball. This is great for dogs that like to chew the ball as they carry it back during a game of fetch.
This is a dog ball designed for the most demanding use, this is no ordinary ball. Simply put, this is the best ball for the game of fetch. Developed to have high bounce, high buoyancy, high visibility, and high durability, the value of the Ultra Ball is easily recognized by dog owners. The Chuckit Ultra Ball promises to outplay the ordinary!
High bounce
Long range
Ultra durable natural rubber
Ultra buoyant for water use
Easy to clean
Premium quality ball
Lightweight
Perfect for exercising your dog! Use it in the park, in your backyard, or anywhere there is plenty of room. You are more likely to need to replace it because you lost it in the park, before it is worn out