OMEGA ONE FRESHWATER FLAKES 1 OZ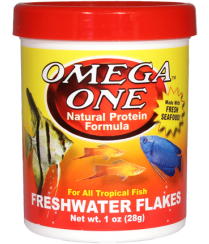 OMEGA ONE FRESHWATER FLAKES 1 OZ
This delicious recipe of fresh, coldwater seafood blended specifically to enhance the levels of Omega 6 fatty acids. Omega 6 fatty acids are extremely valuable to freshwater species for strong immune systems and cell wall development. Low ash and higher quality proteins mean less pollution in the tank. Made only with fresh seafood.
Ingredients: Whole Salmon, Halibut, Black Cod, Whole Herring, Seafood mix (Including Krill, Rockfish, Shrimp, Squid, Clams and Octopus), Wheat Flour, Wheat Gluten, Soy Flour, Fresh Kelp, Lecithin, Astraxanthin, L-ascorbyl-2-pophosphate (Vitamin C) Natural and Artificial Colors, Vitamins A, D, E, K3, B1, B2, B6, B12, Niacin, Pantothenic Acid, Folic Acid, Biotin, Inositol, Ethoxyquin and Naturox (Natural mixed to tocopherols and Rosemary Extract) as Antioxidants.
Guaranteed Analysis: Min. Crude Protein (45%), Min. Crude Fat (11%), Max. Crude Fiber (2%), Max. Moisture (8.5%), Max. Ash (8%).